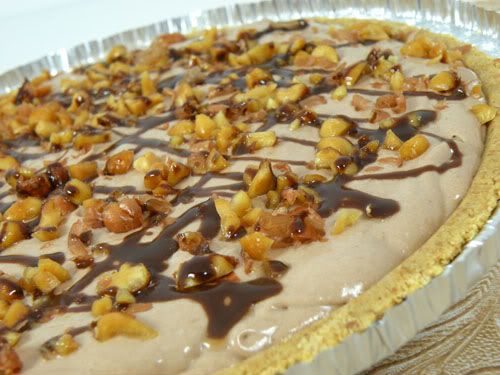 "I'm late, I'm late! For a very important date!" Yesterday, that is… the 7th. The deadline for July's 'You Want Pies With That?' entries. Holly of Phemomenon (one of our fearless leaders) gave me the go-ahead to enter late and I'm very grateful! Grateful, because I wanted to share with everyone this fabulous pie that Momma G is famous for. It tastes so sinful but isn't as bad as you'd think! It's smooth, rich and the dark chocolate peanut butter totally takes it over the top… I love it!
A BIG 'thank you' to Jacque of Daisy Lane Cakes for choosing such a yummy theme this month!
Ingredients
1 (8 oz) container Cool Whip Lite
1 (8 oz) block fat-free cream cheese
1 c dark chocolate peanut butter
1 c Confectioners' sugar
1/4 c heavy cream or fat-free half & half
1 graham cracker crust, store-bought or pre-made
Instructions
Mix all ingredients until smooth and fold in cream/half & half until well blended. Pour mixture into graham cracker crust. Drizzle with dark chocolate syrup and sprinkle with chopped salted peanuts on top. Chill for several hours, or overnight, before serving.
Source: Momma G
http://mybakingheart.com/2009/08/08/you-want-pies-with-that-nuts-about-pie/