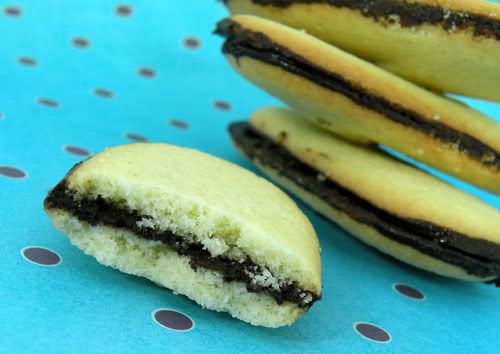 The July Daring Bakers' challenge was hosted by Nicole at Sweet Tooth. She chose Chocolate Covered Marshmallow Cookies and Milan Cookies from pastry chef Gale Gand of the Food Network.
The DB'ers were given the option to make both Milan Cookies and Mallows, but since this month has been crazy busy, I stuck to making only one. And I chose wisely. In fact, these were so good, that I doubt I'll ever buy Pepperidge Farm cookies again. These were simple to make, took little time to put together and were really yummy. 😀 My only problem was keeping away from them… I barely had enough left to photograph!!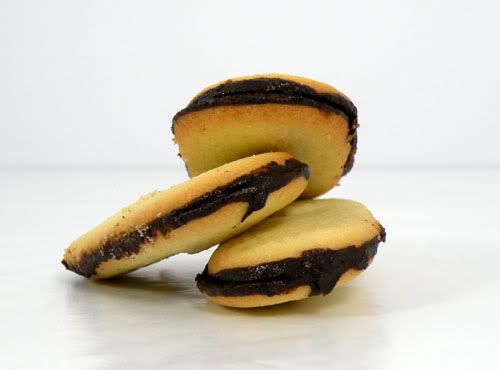 Milan Cookies
Source: Gale Gand, from the Food Network website
Prep Time: 20 min
Inactive Prep Time: 0 min
Cook Time: 1 hr 0 min
Serves: about 3 dozen cookies
12 tbsp unsalted butter, softened
2-1/2 c powdered sugar
7/8 c egg whites (from about 6 eggs)
2 tbsp vanilla extract
2 tbsp lemon extract
1-1/2 c all purpose flour
Cookie filling, recipe follows
Cookie filling:
1/2 c heavy cream
8 oz semisweet chocolate, chopped
1 orange, zested
In a mixer with paddle attachment cream the butter and the sugar. Add the egg whites gradually and then mix in the vanilla and lemon extracts. Add the flour and mix until just well mixed. With a small (1/4-inch) plain tip, pipe 1-inch sections of batter onto a parchment-lined sheet pan, spacing them 2 inches apart as they spread. Bake in a preheated 350 degree oven for 10 minutes or until light golden brown around the edges. Let cool on the pan.
While waiting for the cookies to cool, in a small saucepan over medium flame, scald cream. Pour hot cream over chocolate in a bowl, whisk to melt chocolate, add zest and blend well. Set aside to cool (the mixture will thicken as it cools). Spread a thin amount of the filling onto the flat side of a cookie while the filling is still soft and press the flat side of a second cookie on top. Repeat with the remainder of the cookies.
Yummy Milan cookies with a sneak peek of tomorrow's TWD! 🙂