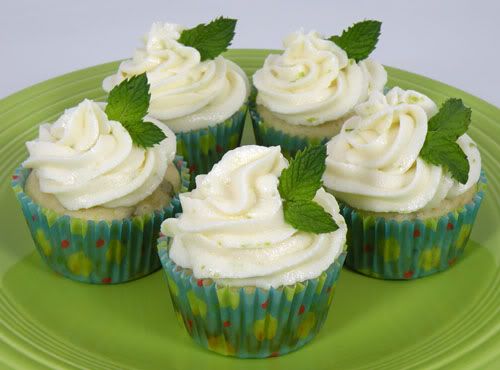 Upon reading the announcement that Iron Cupcake: Earth would be taking a hiatus after July, I knew that I had to come up with an awesome herb-y cupcake (is 'herb-y' even a word?). And since I had limes coming out of my ears (12 for $1 at Market Street!!), I decided that these would be perfect.
Mint is an aromatic, almost exclusively perennial, rarely annual, herb… and it goes perfectly with lime. 🙂 There are several ways to jazz this little cupcake up (specifically, adding rum to make a Mojito cupcake) but since these were going to work, alas, the rum was left out.
Even without the alcohol, though, they reminded me of the drink… and soon after that first bite, I was imagining I had one in my hand.
Minty Fresh Cupcakes with Lime Cream Cheese Frosting
1-1/2 c flour
1/2 c sugar
1/4 tsp salt
1-1/2 tsp baking powder
Zest & juice of one lime
Handful of fresh mint, minced
1/4 c butter, melted
1 egg, beaten
1 c milk
Preheat oven to 350 degrees F and line a cupcake pan with wrappers. Mix flour, sugar, salt and baking powder in a large bowl. Melt butter and mix with beaten egg. Add to dry ingredients, stirring in the milk until smooth. Add lime zest and juice and mint.
Divide batter among the wrappers in the pan and bake for 16-18 minutes, or until the tops are golden brown and springy to the touch. Remove cupcakes from the pan and cool completely on a wire rack before frosting them.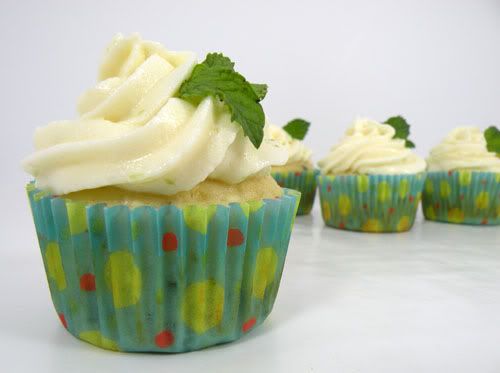 For the frosting:
1 (8 oz.) package cream cheese, softened
1/4 c butter, softened
1/2 tsp pure vanilla extract
Zest of one lime
Juice of 1/2 a lime
1-2/4 c powdered sugar
Fresh mint leaves for garnish
In a medium bowl, beat cream cheese with butter until smooth. Beat in vanilla and lime juice. Beat in powdered sugar in thirds, until smooth. Fold in lime zest. Frost cooled cupcakes and garnish with mint leaves.
~~~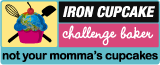 Voting will begin no later than Tuesday, July 28 at 8 pm at NO ONE PUTS CUPCAKE IN A CORNER, and will be open through Wednesday, August 5 at 12 noon.
Iron Cupcake: Earth is a monthly challenge where bakers all over the world compete, creating cupcakes using the same special ingredient. It wouldn't be possible without a lot of people who donate items for prizes and the sponsors for the event. So, special thanks go to:
INSANEJELLYFISH
CIRCLE MONKEY
Sweet Cuppin' Cakes Cupcakery
CAKESPY
Last and certainly not least, don't forget our corporate prize providers: HEAD CHEFS by FIESTA PRODUCTS, HELLO CUPCAKE by Karen Tack and Alan Richardson, JESSIE STEELE APRONS, TASTE OF HOME books, and a t-shirt from UPWITHCUPCAKES.COM. Sponsored in part by 1-800-Flowers.