This weekend was spent hanging on the lake and soaking up the sun poolside in Fort Worth with the fam and it was sooo nice. I love FW like a fat kid loves cake and I'm always happy when I can visit.
I was going to wait until yesterday to make these with Mango and my Aunt D, but I wasn't sure about her appliance situation (seeing as the recipe calls for a food processor).
God knows I love Aunt D… she's one of the coolest people I know and to top it off, she's my Godmother. However, Aunt D's known to be quite the non-foodie. Her favorite dinner is a bag of 3-minute microwave popcorn because "it's quick." So, I guessed correctly that she didn't have a food processor in her kitchen arsenal. 🙂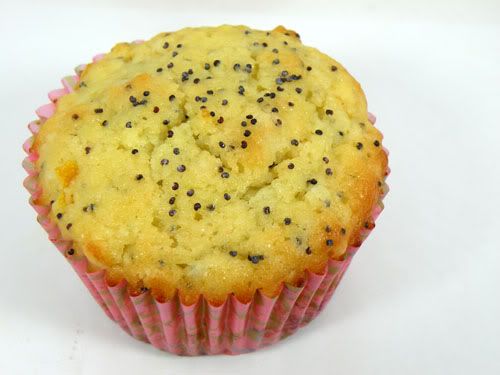 As I started the recipe, I noticed that I had 4 lemons sitting in a bowl just begging to be used. And since I was juggling packing, laundry and dishes, I didn't want to head to the store for one measly orange. Lemon Poppy Seed muffins it was (don't worry, Melissa said it was okay!)!
I subbed 2 whole lemons for orange in the batter and 1/4 cup of lemon juice for the glaze. The muffins gave off a perfect hint of lemon, but the glaze was incredibly tart! I think I'll back off the juice and add a bit more sugar next time! All in all, they turned out great and Aunt D was glad she didn't have to buy a food processor for my visit.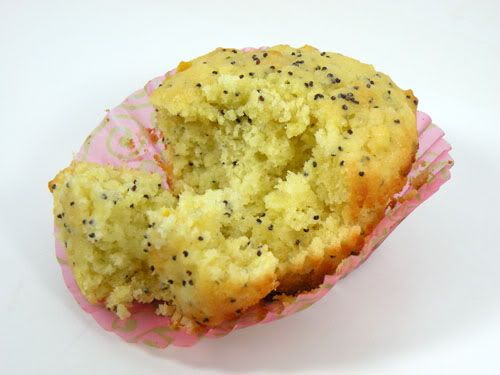 Many thanks to Melissa of Lulu the Baker for this sweet choice! You can grab the recipe from her blog and don't forget to check out the other SMS bakers here!
Lemon Poppy Seed Muffins (pg. 16-17)
Source: The Sweet Melissa Baking Book by Melissa Murphy