Last year, my Mother's Day gateau was featured on Key Ingredient. And just a few short months after that, I was asked to test out KI's new Demy, a digital recipe reader made to set up shop on the kitchen counter. It took almost a year, but the Demy finally arrived on my doorstep for me to try out!
In a sleek, splash-resistant design and sturdy plastic exterior, you can hold up to 2,500 recipes by syncing up to your computer through the enclosed USB cord. It even features three built-in timers and a conversion tool for those tricky measurement issues! Don't have any buttermilk in the fridge for those cupcakes? Click on the substitution tab and save a trip to the store.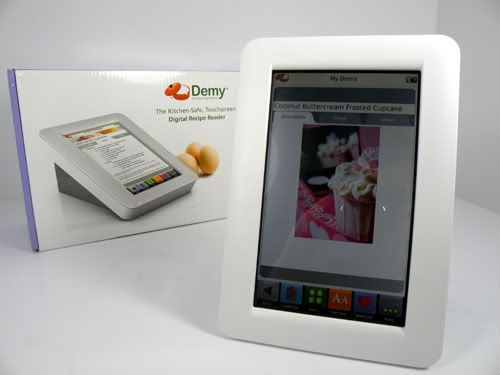 It took just a few short minutes to sync up to my KeyIngredient.com account and load recipes onto the Demy… and took up just a tiny bit of space on my kitchen counter. This was so much better than lugging the laptop and all the cords into the kitchen! Easy to use and technologically-forward!
If it sounds like the Demy's for you, it's available at MyDemy.com, Amazon and now, Neiman Marcus.