For the last couple of weeks, I've been on this huge coconut kick. I've also got all of these berries in the fridge that need to be used before they start to go bad. So when I came across this recipe, I knew these muffins had to be made immediately. 🙂 I love coconut (obviously), I love macadamia nuts and I love blueberries… these would be perfect, right?!
They were… they SO were. I had one for dessert and two with my Decaf Americano for breakfast the next morning. This is a great muffin for Summer – and good for you, too!
Blueberry-Coconut-Macadamia Muffins
Adapted from: Cooking Light, August/September 2006
Makes 12 muffins
2 tbsp plus 3/4 c all-purpose flour, divided
2 tbsp plus 1/2 c brown sugar, divided
5 tbsp chopped macadamia nuts, divided
2 tbsp canola oil, divided
1 c whole-wheat pastry flour or whole-wheat flour
1 tsp baking powder
1/4 tsp baking soda
1/8 tsp salt
1/2 tsp ground cinnamon
1 large egg
1 large egg white
3/4 c nonfat buttermilk
2 tbsp butter, melted
1/2 tsp coconut extract
1-1/2 c fresh or frozen (not thawed) blueberries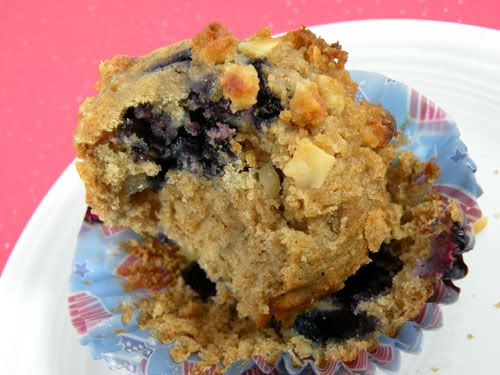 Preheat oven to 400°F. Coat a 12-cup muffin pan with cooking spray. Combine 2 tablespoons all-purpose flour, 2 tablespoons brown sugar and 2 tablespoons macadamia nuts in a small bowl. Drizzle with 1 tablespoon oil; stir to combine. Set aside.
Whisk the remaining 3/4 cup all-purpose flour, whole-wheat flour, baking powder, baking soda, salt and cinnamon in a medium bowl. Whisk the remaining 1/2 cup brown sugar, the remaining 1 tablespoon oil, egg, egg white, buttermilk, butter and coconut extract in a medium bowl until well combined. Make a well in the center of the dry ingredients and pour in the wet ingredients; stir until just combined. Add blueberries and the remaining 3 tablespoons nuts; stir just to combine. Divide the batter among the prepared muffin cups. Sprinkle with the reserved coconut topping and gently press into the batter.
Bake the muffins until golden brown and a wooden skewer inserted in the center comes out clean, about 20 minutes. Let cool in the pan for 10 minutes, then remove from the pan and let cool on a wire rack at least 5 minutes more before serving.
Store, individually wrapped, at room temperature for up to 2 days or in the freezer for up to 1 month. To reheat, remove plastic wrap, wrap in a paper towel and microwave on High for 30-45 seconds.