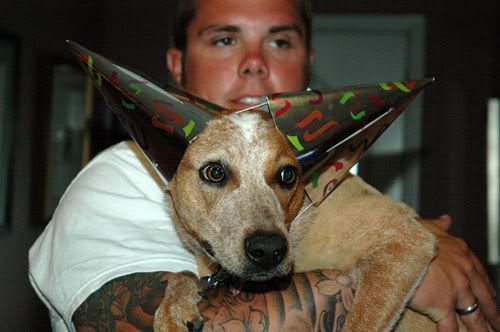 "Really, Dad??"
With four puppies around the house, I'd always wanted to make dog treats but for some reason, never got around to it. So, when my sis asked if I'd make birthday treats for her dog, Kacy Lynn, I jumped at the chance.
I ran across the book The Dog Ate It, not a week before (on the clearance rack, no less!), so this was the perfect opportunity to try it out. I decided on Apple & Cheddar Pupcakes and made a few changes. The prep and baking took no time at all and before we knew it, there was one pupcake left… even the humans liked them (my sis said they tasted like pancakes)! 🙂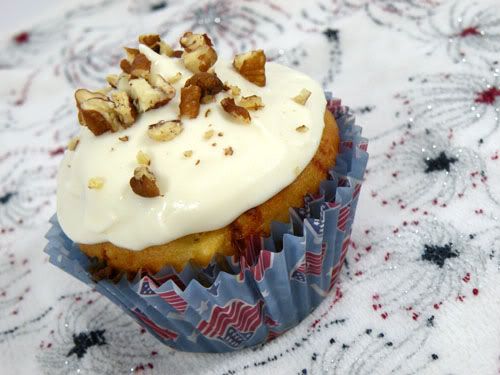 Ingredients
For the Pupcakes:

1-1/2 c all-purpose flour
1/4 c oatmeal
2 tsp baking powder
1/2 tsp baking soda
1/2 c plain yogurt
1/2 c water
1/4 c vegetable oil
2 tbsp honey
2 lg eggs
1 lg apple, cored and minced
1 c cheddar cheese, shredded

For the Frosting:

8 oz cream cheese, at room temperature
2 tbsp honey
2 tbsp plain yogurt
2-3 tbsp all-purpose flour
Chopped walnuts, for garnish
Instructions
Preheat the oven to 400 degrees F. Line muffin tins with 16 paper liners. In a large bowl, combine flour, oatmeal, baking powder and soda. In a medium bowl, blend together the yogurt, water, oil, honey and eggs, then stir in the apples and cheese. Add to the flour mixture and stir just until barely mixed.
Spoon the batter into the muffin tins, filling each cup about 3/4 full. Bake in the preheated oven about 15-20 minutes or until a toothpick inserted into the center of a pupcake comes out clean. Let the pupcakes cool in the tins on a rack for a few mintues, then remove and set aside to cool completely.
For the frosting, combine the cream cheese, honey and yogurt until smooth. Add just enough flour to thicken the frosting to a good spreading consistency. Frost the cooled pupcakes, the sprinkle with chopped walnuts.
Adapted from: The Dog Ate It
http://mybakingheart.com/2009/07/08/apple-cheddar-pupcakes/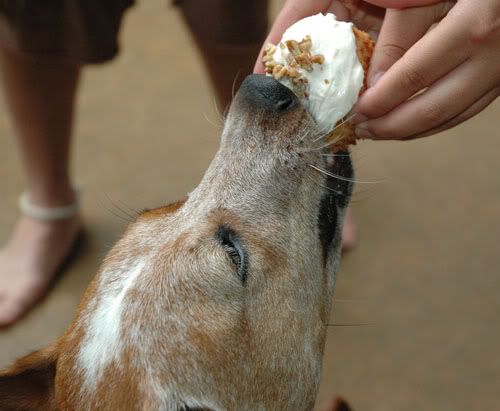 Om nom nom.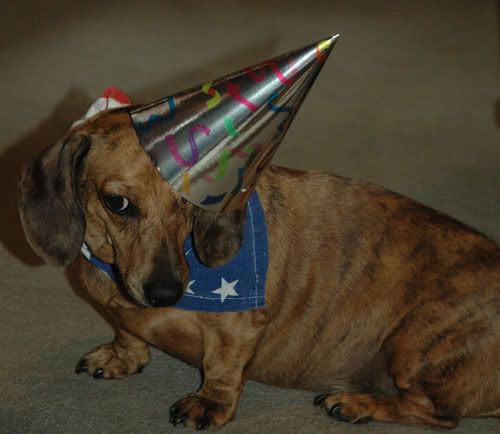 Dixie wasn't too thrilled with her hat…
Neither was Rusty Greer…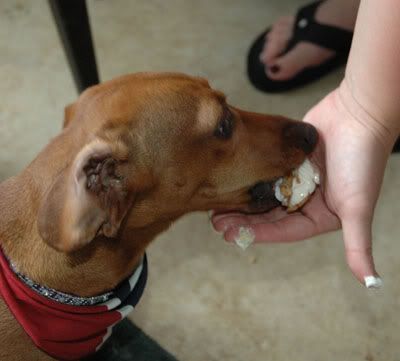 And Gracie ditched hers long before we could get a shot of it!
Kacy says, "Thanks for coming to my 1st Birthday Pawty!" 🙂