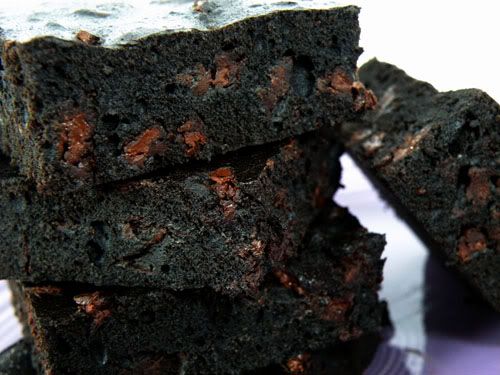 I started to get major migraines during the last few months of my senior year at TCU. So with a little help from a family friend (who just happens to be a top doc at Johns Hopkins), I got the right meds and was advised to ween myself off of caffeine. If you know me at all, you'll know that it wasn't easy. See, I'm a Starbucks junkie… literally, I'm in there EVERY.SINGLE.DAY. I walk in and they're already making my drink (which is now a decaf grande Americano with room, thankyouverymuch). I'm friends with most of the baristas, we trade book recs and even hang out away from the 'Bucks (gasp!). Even though I function pretty well without it, I miss the caffeine. I'm sure it's just my imagination, though. 😉
So when I read over the recipe for these Hepburn brownies, I did a happy dance and knew exactly how I was going to change 'em up. Since I've kicked the good stuff (read: caffeine), I decided to go all out with a little jolt… dark chocolate cocoa powder, chopped dark chocolate and espresso powder. Talk about caffeine overload. YUM!!
A big caffeine-induced "thank you" to Lisa of Surviving Oz (the creator of our fab new logo!) for this week's pick!
Tribute to Katharine Hepburn Brownies (pg. 96-97)
Source: Baking – From My Home to Yours by Dorie Greenspan