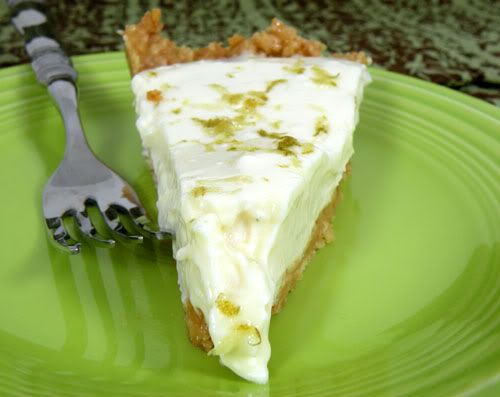 My buddy Amy is such a cool chick. She always knows when to call, she collects antiques and last April, she convinced me to join Tuesdays With Dorie (by the way, have I ever thanked you, A??). This time, she didn't have to convince me of anything… I just copied off of her and joined You Want Pies With That? on my own. She's just that fabulous. 🙂
For my very first entry into YWPWT, I chose a Coconut-Rum Key Lime Pie. For two reasons, actually. A) Our theme was 'Taste of Summer' and B) I've never tried Key Lime Pie.
I hear you… "What?!" you say. It's true. So, let me tell you a little bit about it. I think I have a new favorite dessert. I'm not a huge fan of shredded coconut, but I love me some coconut flavoring, so I subbed coconut extract for all the shredded pieces that it called for. This pie combines all kinds of things that I associate with Summer… tropical flavors, alcohol (hee!), fruit and coolness.
Thumbs up to Rebecca of Ezra Pound Cake and Mary of Alpineberry for such a yummy theme! Thanks gals!!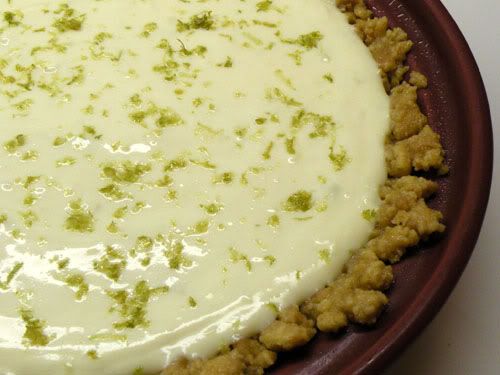 Coconut-Rum Key Lime Pie
Adapted from: Southern Living
1 (8 oz) package cream cheese, softened
1 (14 oz) can sweetened condensed milk
1/2 c key lime juice
2 tbsp key lime zest
1 tsp coconut rum
1-1/2 tsp coconut extract
Coconut Crust (recipe follows)
Beat cream cheese and milk with an electric mixer at medium speed until smooth. Add lime juice, zest, rum and coconut extract, stirring to combine. Pour filling into Coconut Crust. If you have any left over, sprinkle a bit of lime zest on top. Cover and chill at least 12 hours or until set.
~~~
Coconut Crust
26 cream-filled vanilla sandwich cookies, finely crushed (about 1-1/2 cups)
6 tbsp butter, melted
2 tsp coconut extract
Combine all ingredients. Firmly press on bottom and up sides of a 9″ pie plate. Cover and chill for 30 minutes. Uncover and fill with Coconut-Rum Key Lime filling.