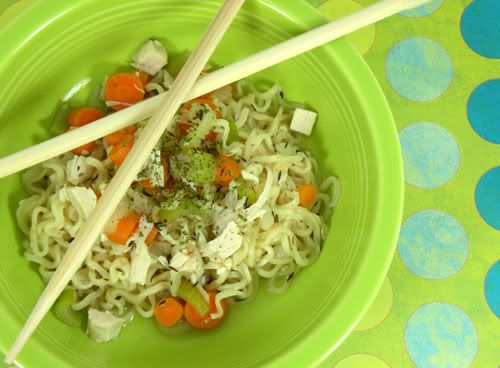 For Tyler Florence Fridays this week, I decided on another easy recipe… really easy, in fact! There are so many ways you can change this one up, but I decided to stick with it as written since I was short on time. This took just a few minutes and was so yummy… perfect for kiddos this summer and such an awesome way to jazz up Ramen noodles. This is definitely a keeper!
Chicken Noodle Ramen Soup
Source: Tyler Florence
2 tbsp extra-virgin olive oil
1 medium onion, chopped
3 garlic cloves, minced
2 medium carrots, cut diagonally into 1/2-inch-thick slices
2 celery ribs, cut in half lengthwise then cut crosswise into 1/2-inch-thick slices
4 fresh thyme sprigs
1 bay leaf
1 quart organic chicken stock
Kosher salt and freshly ground pepper
8 oz instant Ramen noodles
1-1/2 c shredded cooked chicken
1 handful fresh flat-leaf parsley, finely chopped
Place a soup pot over medium heat and coat with oil. Add the onion, garlic, carrots, celery and thyme. Cook and stir for about 6 minutes, until the vegetables are softened but not browned. Pour in the chicken stock and season with salt and pepper; bring the liquid to a boil. Add the Ramen noodles and simmer for 3 minutes until tender. Fold in the chicken and continue to simmer for another couple of minutes to heat through. Sprinkle with chopped parsley before serving.