Happy Birthday, A!!
I waited until the last minute for this month's Iron Cupcake: Earth challenge, but I have a good excuse… I promise!
A's birthday is today and he loves berries, so I knew that this would be the perfect birthday treat. A yummy cupcake, plus a Nonfat Triple Grande Latte with whip (extra hot), and he's a happy guy! 🙂
Raspberry-Swirl Cakes
Source: Cupcakes by Pamela Clark
1 stick butter, softened
1/2 tsp vanilla extract
2/3 c sugar
2 eggs
1-1/2 c self-rising flour
1/3 c milk
pink food coloring
3 tbsp raspberry jam
Preheat oven to 350 degrees. Line 12-hole standard muffin pan with paper baking cups. Beat butter, vanilla, sugar and eggs in small bowl with electric mixer until light and fluffy. Stir in sifted flour and milk, in two batches. Divide mixture evenly between two bowls. Tint one mixture pink; leave other mixture plain. Drop alternate spoonfuls of the two mixtures into baking cups. Divide jam among cakes, pull a skewer backwards and forwards through mixtures for a swirling effect; smooth surface. Bake cakes about 20 minutes. Turn cakes onto wire rack to cool.
Cream Cheese Frosting (My new favorite!!)
Source: Pinch My Salt
16 oz cream cheese (2 packages), softened
1/2 c unsalted butter (1 stick), softened
1 tsp vanilla extract
2-1/2 c powdered sugar, sifted
Pinch of salt
With an electric mixer, blend together cream cheese and butter until smooth. Turn mixer to low speed and blend in powdered sugar, salt and vanilla extract. Turn mixer on high and beat until light and fluffy. Use immediately or refrigerate, covered, until ready to use. If refrigerated, the frosting will need to be brought to room temperature before using (after frosting softens up, beat with mixer until smooth).
Recipe Notes: If you prefer a sweeter and/or stiffer frosting, more powdered sugar can be added (up to four cups). But remember, the more sugar you add, the less you'll be able to taste the tangy cream cheese!
YUM!!
~~~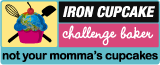 Voting will begin no later than Sunday, June 28 at 8 pm at NO ONE PUTS CUPCAKE IN A CORNER, and will be open through Monday, July 6 at 12 noon.
Iron Cupcake: Earth is a monthly challenge where bakers all over the world compete, creating cupcakes using the same special ingredient. It wouldn't be possible without a lot of people who donate items for prizes and the sponsors for the event. So, special thanks go to:

INSANEJELLYFISH
BLOCKHEAD PRESS
Sweet Cuppin' Cakes Cupcakery
CAKESPY
Last and certainly not least, don't forget our corporate prize providers: HEAD CHEFS by FIESTA PRODUCTS, HELLO CUPCAKE by Karen Tack and Alan Richardson, JESSIE STEELE APRONS, TASTE OF HOME books, and a t-shirt from UPWITHCUPCAKES.COM. Sponsored in part by 1-800-Flowers.