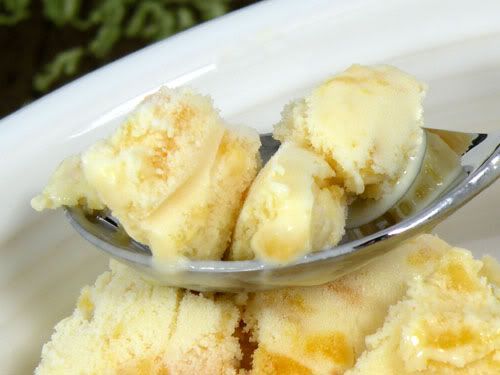 This weekend was a scorcher. Literally, it was 100 degrees. And very stupidly, I agreed to help my little sister plant flowers in her yard. Don't get me wrong, I definitely didn't mind helping her – I always love spending time with her – but I seriously melted while we were outside. Fortunately, I had this frosty ice cream waiting for us in the freezer! It cooled us down and was so yummy! The peaches were delicious and just the right amount of honey came out in each bite. Her yard came out looking pretty nice, too… if I do say so myself. 😉
Many thanks to Tommi of Brown Interior for such a great summer pick – don't forget to check out the other TWD members here!
And Happy Birthday to my sweet, sweet friend Amy!! 🙂 Love ya!
Honey-Peach Ice Cream (pg. 437)
Source: Baking – From My Home to Yours by Dorie Greenspan