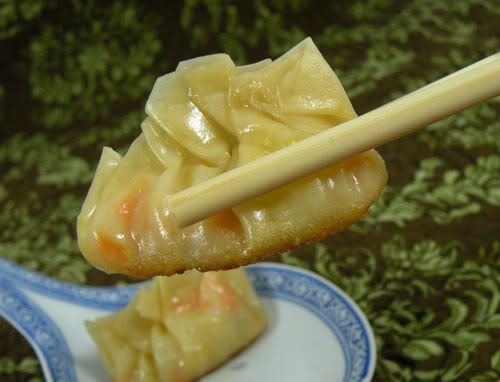 It all started in 1988. My dad's middle sister won a trip for four to Hong Kong and couldn't use the tickets. So, my parents jumped at the chance, grabbed their two best friends and headed to the Far East… leaving my little sister and me with my grandparents for a week and half. They figured that this was the perfect opportunity to not only experience Chinese culture, but to begin business with a few of our (now) longtime product suppliers. They not only cultivated a business relationship, but started a great friendship that's lasted over 20 years.
Wondering where I'm going with this story? Well, while they're were over there, my mom fell in love with the people and their way of life, especially the cookware and the food (excluding the duck's foot soup… which, when picked up with a pair of chopsticks, the webbed foot actually opened up). She brought home silk dresses, pillows, sandalwood fans, chopsticks, rice pattern dishes and cookbooks galore.
We began eating fried rice, stir-fry and egg drop soup weekly… and it. was. good. My mom's great at thousands of things. Seriously, pretty much every thing she does is fabulous, but her Chinese cooking is one thing that I'm completely in awe of. It's so delicious, I sometimes hate going out for Chinese. I feel like I'm cheating on her. 🙂
So, when I read this month's DC pick, I got all excited and knew that I had to involve her with the prep. We dug out her wok (to make her famous fried rice) and all her rice pattern dishes and went to town. The filling ended up being veggie (consisting of cabbage, carrots, green onions, water chestnuts, bean sprouts and garlic)… one, because I'm not too fond of pork and two, because I forgot to get the shrimp while I was at the store (seriously, it was the MAIN thing I went to buy!! Argh!). Anyway, it was still yummy and I can't wait to make these again. My mom and I had so much fun making the wrappers, filling the dumplings and pleating the edges. Hers were much prettier than mine, but they all went down without complaint!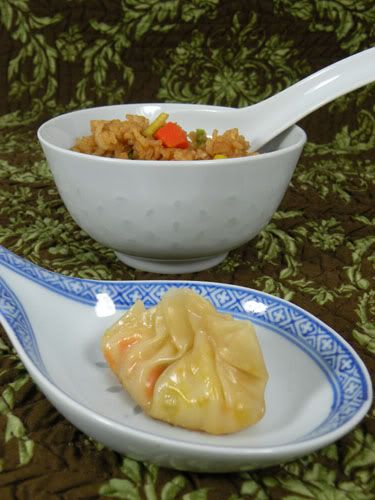 Chosen by Jen of use real butter, I give you the Daring Cooks recipe for June…
Chinese Dumplings/Potstickers
Pork filling:
1 lb ground pork
4 large napa cabbage leaves, minced
3 stalks green onions, minced
7 shitake mushrooms, minced (if dried – rehydrated and rinsed carefully)
1/2 c bamboo shoots, minced
1/4 c ginger root, minced
3 tbsp soy sauce
2 tbsp sesame oil
2 tbsp corn starch
OR
Shrimp filling:
1/2 lb raw shrimp, peeled, deveined, and coarsely chopped
1/2 lb ground pork
3 stalks green onions, minced
1/4 c ginger root, minced
1 c water chestnuts, minced
1 tsp salt
3 tbsp sesame oil
2 tbsp corn starch
Dough: (double this for the amount of filling, but easier to make it in 2 batches – or just halve the filling recipe)
2 c all-purpose flour
1/2 c warm water
flour for work surface
Dipping Sauce:
2 parts soy sauce
1 part vinegar (red wine or black)
a few drops of sesame oil
chili garlic paste (optional)
minced ginger (optional)
minced garlic (optional)
minced green onion (optional)
sugar (optional)
Combine all filling ingredients in a large mixing bowl and mix thoroughly. Cover and refrigerate until ready to use (up to a day, but preferably within an hour or two).
Make the dough, Method 1: Place the flour in the work bowl of a food processor with the dough blade. Run the processor and pour the warm water in until incorporated. Pour the contents into a sturdy bowl or onto a work surface and knead until uniform and smooth. The dough should be firm and silky to the touch and not sticky.[Note: it's better to have a moist dough and have to incorporate more flour than to have a dry and pilling dough and have to incorporate more water).
Make the dough, Method 2: In a large bowl mix flour with 1/4 cup of water and stir until water is absorbed. Continue adding water one teaspoon at a time and mixing thoroughly until dough pulls away from sides of bowl. We want a firm dough that is barely sticky to the touch.
Both dough methods: Knead the dough about twenty strokes then cover with a damp towel for 15 minutes. Take the dough and form a flattened dome. Cut into strips about 1 1/2 to 2 inches wide. Shape the strips into rounded long cylinders. On a floured surface, cut the strips into 3/4 inch pieces. Press palm down on each piece to form a flat circle (you can shape the corners in with your fingers). With a rolling pin, roll out a circular wrapper from each flat disc. Take care not to roll out too thin or the dumplings will break during cooking – about 1/16th inch. Leave the centers slightly thicker than the edges. Place a tablespoon of filling in the center of each wrapper and fold the dough in half, pleating the edges along one side (see images in post for how to fold pleats). Keep all unused dough under damp cloth.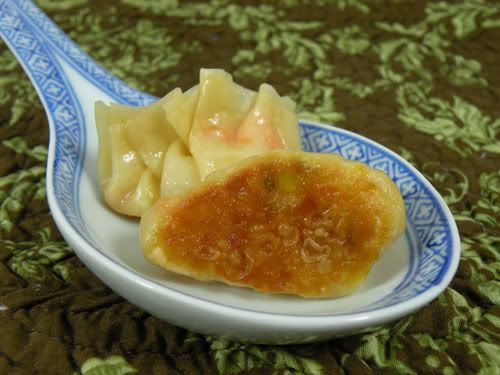 To boil: Bring a large pot of water to a boil and add dumplings to pot. Boil the dumplings until they float.
To steam: Place dumplings on a single layer of napa cabbage leaves or on a well-greased surface in a steamer basket with lid. Steam covered for about 6 minutes.
To pan fry (potstickers): Place dumplings in a frying pan with 2-3 tbsp of vegetable oil. Heat on high and fry for a few minutes until bottoms are golden. Add 1/2 cup water and cover. Cook until the water has boiled away and then uncover and reduce heat to medium or medium low. Let the dumplings cook for another 2 minutes then remove from heat and serve.
To freeze: Assemble dumplings on a baking sheet so they are not touching. It helps to rub the base of the dumpling in a little flour before setting on the baking sheet for ease of release. Freeze for 20-30 minutes until dumplings are no longer soft. Place in ziploc bag and freeze for up to a couple of months. Prepare per the above instructions, but allow extra time to ensure the filling is thoroughly cooked.
To serve: Serve dumplings or potstickers hot with your choice of dipping sauce combinations.