I've patiently waited for this day since April '08… and it's finally here!! I went back and forth about what to choose from Dorie's amazing book (seriously, TWD and 'Baking' changed my life), and I finally decided on the Parisian Apple Tartlet. Not only is the tart adorable in the picture, but the name reminds me of my last trip to France.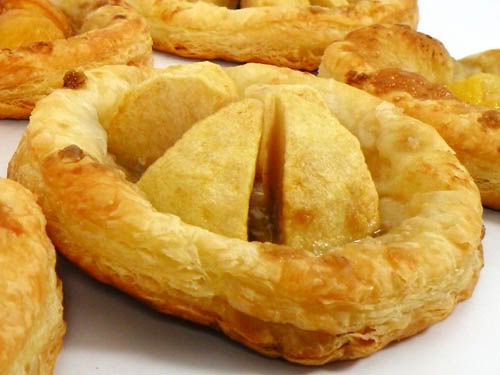 As I sent in my choice, I had reservations about using ready-made pastry, almost as if it was a cop-out recipe… but I eventually realized that if it wasn't so amazing, Dorie wouldn't have put it in the book!
So, here it is, my choice for the 75th week of 'Tuesdays With Dorie'… the Parisian Apple, Plum and Peach Tartlet!! 🙂
Parisian Apple Tartlet (pg. 319)
Source: Baking – From My Home to Yours by Dorie Greenspan
1 1/8″ thick, 4″ circle cold Puff Pastry (preferably all-butter; see note pg. 315*)
1/2 firm, sweet apple, such as Golden Delicious or Fuji, peeled and cored
Light brown sugar
1 tsp cold butter, cut into 3 pieces
1 tsp cinnamon (my addition)
Getting Ready:
Center a rack in the oven and preheat the oven to 400 degrees F. Line a baking sheet with parchment paper or a silicone mat and put the pastry circle on the sheet.
Cut the apple half into 4 chunks and center the chunks on the pastry circle. Sprinkle the apple with 1-2 teaspoons brown sugar (and the teaspoon of cinnamon) – depending on how much sweetness you want – and dot with the bits of butter.
Bake the tartlet for about 25 minutes (the time will vary depending on how your apple bakes), until the pastry is deeply browned and puffed up around the apple and the apple can be easily pierced with the tip of a knife.
Transfer the baking sheet to a rack and let the tartlet cool – it's great just a little warm and equally good at room temperature.
*Note: Pepperidge Farm puff pastry sheets are available in every supermarket across the country. However, I can't encourage you enough to search out an all-butter puff pastry at a local specialty store. If the store doesn't carry frozen all-butter puff pastry, perhaps it will order it for you. The pastry I buy – which is so good I quit making puff pastry at home – is made by Dufour Pastry.
Serving: You've got a choice – you can wrap the tartlet in a piece of waxy paper and eat it standing up, pretending you're walking the cobblestone streets of Paris, or you can put it on a proper plate with proper cutlery and serve it as an elegant finish to a meal.
Storing: The tartlet should be served soon after it is baked and certainly on the day it is made.
Playing Around: Use this simple construction to make a pear, plum, apricot, peach or even a mango tartlet.