I'm so excited to join this fabulous group of bakers as I tackle another weekly challenge… this time on Sundays!
Sweet Melissa Sundays was started by Lorelei of Mermaid Sweets as a way to bake through Melissa Murphy's book, The Sweet Melissa Baking Book, and I am so, so glad that I made it in time before the membership cap of 50. With a small group like this, it's easier to make it to all of the bakers' blogs and it feels like a little family… a Sweet Melissa family. 🙂
So, with lots of excitement, I give you my first Sweet Melissa Sundays challenge… the Sour Cherry Pie with Pistachio Crumble. Not only did this taste amazing after it came out of the oven, but it was so yummy-smelling while I was putting it together, I wanted to eat it right then and there! It even rivals my great-grandmother's Cherry Cream Pie! I can't believe I just said that – my grandmother will kill me!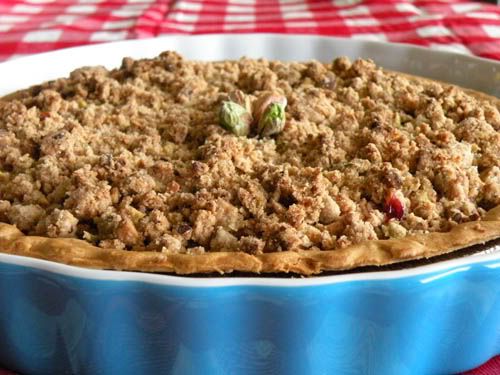 Thanks to Michelle of Flourchild for this week's choice! Head on over to her blog for the complete recipe and don't forget to check out the other SMS bakers here! 🙂
Sour Cherry Pie with Pistachio Crumble (pg. 146-147)
Source: The Sweet Melissa Baking Book by Melissa Murphy