Time for another round of Iron Cupcake: Earth! This month's challenge was Savory, and I ended up making a tasty little batch of Bacon-Cheddar "cupcakes". My first attempt for this competition ended up in the trash… it's one I'd love to try again, but first I'll have to figure out why the dough became so shaggy. I followed the recipe to a 'T' and it just never came together. I wonder if it's because the recipe came out of a Texas-Exes cookbook?? 😉
Back to the cupcakes at hand, though. These were just perfect for breakfast last Sunday morning. I opened them up, dabbed a little butter on top and bit in. I almost didn't want to finish the eggs and fruit that went along with them! Definitely a crowd pleaser and great as leftovers, too!
Bacon-Cheddar Cakes
Adapted from: Dorie Greenspan's recipe in Bon Appétit
5 bacon slices, chopped
1 c coarsely grated extra-sharp cheddar cheese plus 1/2 cup 1/4-inch cubes extra-sharp cheddar cheese (about 6 ounces total)
1-3/4 c all purpose flour
1 tbsp baking powder
1/2 tsp salt
1/4 tsp ground black pepper
3 large eggs
1/3 c whole milk
1/3 c extra-virgin olive oil
Position rack in center of oven and preheat to 350°F. Line cupcake pan with liners and set aside. Cook bacon in large skillet over medium heat until crisp. Transfer bacon to paper towels to drain.
Combine bacon and cheese in medium bowl. Whisk flour, baking powder, salt, and black pepper in large bowl to blend. Whisk eggs, milk, and olive oil in another medium bowl to blend. Pour egg mixture over flour mixture and stir just until dry ingredients are moistened. Add bacon-cheese mixture and stir until incorporated (dough will be very sticky). Transfer dough to prepared cupcake pan.
Bake cakes until golden on top and slender knife or toothpick inserted into center of cakes comes out clean, about 20 minutes. Cool cakes in pan 5 minutes, then turn out onto rack and cool completely. DO AHEAD: Can be made 1 day ahead. Wrap in plastic, then foil, and store at room temperature.
~~~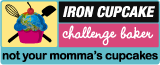 Voting will begin no later than Saturday, May 30 at 8 pm at NO ONE PUTS CUPCAKE IN A CORNER, and will be open through Friday, June 5 at 12 noon.
Iron Cupcake: Earth is a monthly challenge where bakers all over the world compete, creating cupcakes using the same special ingredient. It wouldn't be possible without a lot of people who donate items for prizes and the sponsors for the event. So, special thanks go to:
INSANEJELLYFISH
CHERRYCREEKCHARMS
Sweet Cuppin' Cakes Cupcakery
CAKESPY
Last and certainly not least, don't forget our corporate prize providers: HEAD CHEFS by FIESTA PRODUCTS, HELLO CUPCAKE by Karen Tack and Alan Richardson, JESSIE STEELE APRONS, TASTE OF HOME books, and a t-shirt from UPWITHCUPCAKES.COM. Sponsored in part by 1-800-Flowers.