There's a new member of Hornedfroggy's family! Shelley of Shelley Bakes is my new "bloggin' baby" for this awesome project, hosted by Kristen of Dine & Dish.
Adopt A Blogger #3… where veterans mentor newbies on the ins-and-outs of food blogging. I've been blogging for about a year and a half now and I love it. I didn't have anyone to help me out when I got started, so I did a lot of research, read a lot of fabulous blogs and learned as I went (and I'm still learning!). Hopefully, I'll be able to give Shelley some good advice… if anything, she's got a great listener and a new friend! 🙂
To welcome Shelley to the Hornedfroggy family, here's a yummy fruit salad that's perfect for summer picnics and parties on the patio!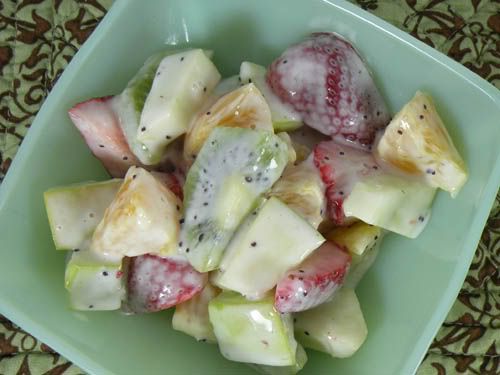 P's Poppy Fruit Salad
Source: Family friend, P.E.
Strawberries
Kiwis
Apples
Oranges
and any other fruit you want
Dressing:
Sour Cream (I use fat-free)
Brianna's Poppy Seed Dressing
Mix the two together and pour on top of fruit!*
*P uses no set amount. When I mixed the two together, it was about 1/4 cup of each for about 3 cups of fruit. It's also great as a fruit dip!