The April 2009 challenge is hosted by Jenny from Jenny Bakes. She has chosen Abbey's Infamous Cheesecake as the challenge.
This month, the DBers were given a cheesecake recipe to adapt to their own tastes. And with a decision that big weighing on my mind, I knew just the person to ask… Momma G. She immediately replied, "Pecan Praline." 🙂 So, that's what it would be! I've made several cheesecakes in the past and this one was, by far, the easiest and fastest. Almost as fast as Dorie's 15 Minute Magic Amaretti Cake. 😉 Try this one soon and enjoy it – here's to Momma G!!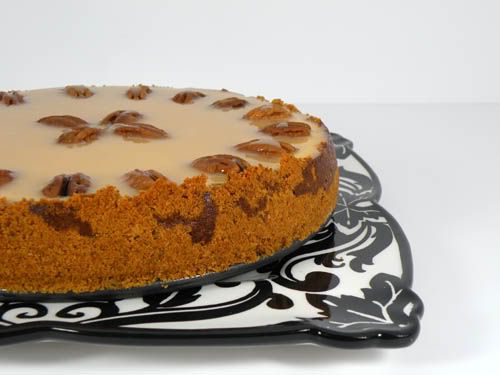 Southern Pecan Praline Cheesecake
Adapted from: Abbey's Infamous Cheesecake by Abbey T. (my changes in purple)
Crust:
2 c graham cracker crumbs
1/4 c finely chopped pecans
1 stick butter, melted
2 tbsp sugar
1 tsp vanilla extract
Cheesecake:
3 sticks of cream cheese, 8 oz each, at room temperature
1 c sugar
3 large eggs
1 c heavy cream
1 tbsp lemon juice (omitted)
1 tbsp vanilla extract (or the inside of a vanilla bean)
1 tbsp liqueur, (optional, but omitted)
1 c pecan halves
Topping:
1/2 c dark corn syrup
2 tbsp cornstarch
1 tbsp light brown sugar
1 tsp vanilla
Directions:
Preheat oven to 350 degrees F. Begin to boil a large pot of water for the water bath.
Mix together the crust ingredients and press into your preferred pan. You can press the crust just into the bottom, or up the sides of the pan too – baker's choice. Set crust aside.
Combine cream cheese and sugar in the bowl of a stand-mixer (or in a large bowl if using a hand-mixer) and cream together until smooth. Add eggs, one at a time, fully incorporating each before adding the next. Make sure to scrape down the bowl in between each egg. Add heavy cream, vanilla, lemon juice & alcohol and blend until smooth and creamy.
Pour batter into prepared crust and tap the pan on the counter a few times to bring all air bubbles to the surface. Place pan into a larger pan and pour boiling water into the larger pan until halfway up the side of the cheesecake pan. If cheesecake pan is not airtight, cover bottom securely with foil before adding water.
Bake 45 to 55 minutes, until it is almost done – this can be hard to judge, but you're looking for the cake to hold together, but still have a lot of jiggle to it in the center. You don't want it to be completely firm at this stage. Close the oven door, turn the heat off, and let rest in the cooling oven for one hour. This lets the cake finish cooking and cool down gently enough so that it won't crack on the top. After one hour, remove cheesecake from oven and lift carefully out of water bath. Let it finish cooling on the counter, and then cover and put in the fridge to chill. Once fully chilled, it is ready to serve.
For the topping – Arrange pecan halves around top of cheesecake. In a saucepan combine corn syrup, cornstarch and brown sugar. Cook, stirring, over low heat until thickened. Remove from heat; stir in vanilla. Pour over cheesecake.
Hornedfroggy's notes:
I did not use a water bath this time and the cheesecake turned out perfect. I also baked the cake for longer than the recommended time…
close to 50-55 minutes.
Pan note: The creator of this recipe used to use a springform pan, but no matter how well she wrapped the thing in tin foil, water would always seep in and make the crust soggy. Now she uses one of those 1-use foil "casserole" shaped pans from the grocery store. They're 8 or 9 inches wide and really deep, and best of all, water-tight. When it comes time to serve, just cut the foil away.
Prep notes: While the actual making of this cheesecake is a minimal time commitment, it does need to bake for almost an hour, cool in the oven for an hour, and chill overnight before it is served. Please plan accordingly!