This month's Iron Cupcake: Earth challenge was "Soda Pop". And since we're here in the fabulous Lone Star State, "Soda Pop" will lovingly be referred to as "Coke" from here on out. It's a Southern thing… yes, we all know it's wrong, but no, we won't change. 😀
In 1885, Dr Pepper was formulated by German pharmacist Charles Alderton in Morrison's Old Corner Drug Store in Waco, Texas (and it doesn't have a period after the "r" in Dr!). Seeing as how I'm a 3rd generation Texan, I figured what better way to celebrate Texas than for my first ICE challenge to incorporate DP!! Especially, with their new "Cherry" flavor!
Yippee Ki-Yay Cherry Cupcakes
Source: My Baking Heart
1-1/2 c flour
3 tbsp unsweetened cocoa powder
1/2 tsp salt
1 c sugar
1 tsp baking soda
2 tsp vanilla extract
1 tsp white vinegar
6 tbsp vegetable oil
1 c Cherry Dr Pepper
Preheat oven to 350 degrees F.
Place dry ingredients in a bowl and whisk thoroughly. Make 3 holes in the mixture. Pour the vanilla into one hole, the vinegar in another and the oil in the last hole. Pour the Dr Pepper over the top and mix thoroughly.
Fill the cupcake wrappers 3/4 full and bake for 20 minutes. Remove pan from oven and let cool on a rack for 10 minutes. Remove cupcakes from pan and place on same rack to finish cooling completely. Frost with Dark Chocolate icing!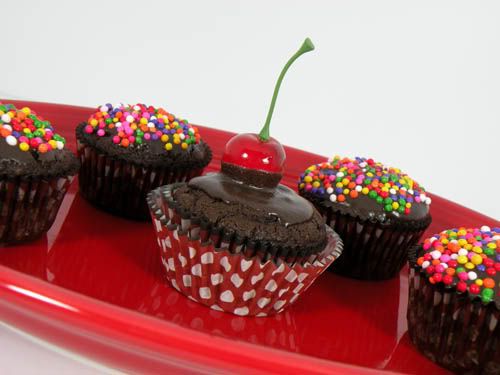 Dark Chocolate Icing
Source: My Baking Heart
1/2 c butter, melted
1/3 c dark cocoa powder
1/3 c evaporated milk
1 tsp vanilla extract
2 c powdered sugar
Beat all ingredients at medium speed with an electric mixer until dry ingredients are moist. Beat at high speed until icing reaches a thick consistency.
~~~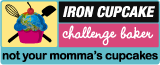 Voting will begin no later than Wednesday, April 29 at 8pm at NO ONE PUTS CUPCAKE IN A CORNER, and will be open through Monday, May 4 at 12 noon. Don't forget to head on over and vote for little 'ol me!! 😀
Iron Cupcake: Earth is a monthly challenge where bakers all over the world compete, creating cupcakes using the same special ingredient. It wouldn't be possible without a lot of people who donate items for prizes and the sponsors for the event. So, special thanks go to:
FRUITFLYPIE
LOTS OF SPRINKLES
Sweet Cuppin' Cakes Cupcakery
CAKESPY
Last but certainly not least, don't forget our corporate prize providers: HEAD CHEFS by FIESTA PRODUCTS, HELLO CUPCAKE by Karen Tack and Alan Richardson, JESSIE STEELE APRONS, TASTE OF HOME Books, and UPWITHCUPCAKES.COM. Sponsored in part by 1-800-Flowers.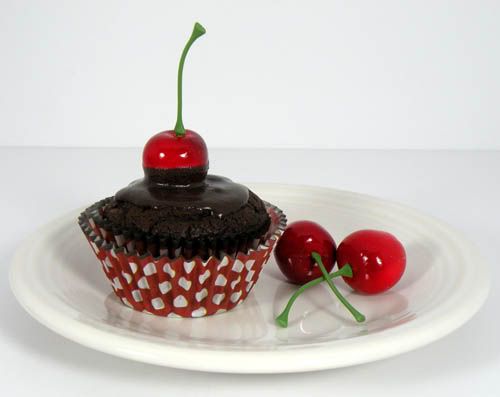 Don't forget to vote for me here, starting Wednesday April 29th at 8pm!! And remember… "Drink a bite to eat at 10, 2 and 4!!" 😉