Happy Earth Day, my lovely readers!! In honor of the 39th Anniversary of this awesome day, I decided to take some treats to work… in a reusable bag, of course! 🙂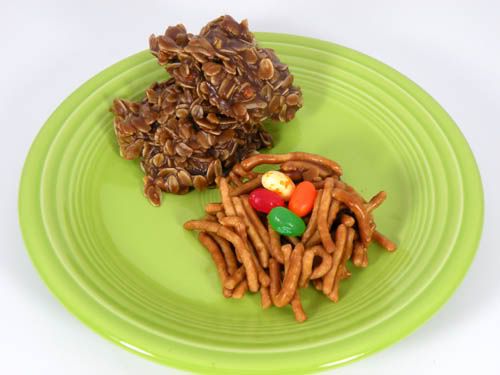 Mudpies
Source: Kaboose
2 c sugar
2 tbsp cocoa
1/2 c milk
1/2 c butter
1/2 c peanut butter
2 c oatmeal
1 tsp vanilla flavoring
Mix the sugar and the cocoa together in a bowl. Stir in the milk. Put the mixture in a pot, add the butter, and put it on the stove to cook. It needs to come to a full boil and cook that way for two minutes. Keep stirring the mixture the entire time it cooks so that it won't burn. Take the mixture off of the stove and mix the rest of the ingredients with the cooked part of the recipe. Dip, by spoonfuls, on to the waxed paper and allow to cool.
Bird Nests
Source: Various 'Cooks.com' recipes
3 c Chow Mein Noodles
Above recipe, minus oatmeal
Immediately after adding the peanut butter to the above recipe, split the mixture into two bowls. In one bowl, pour the chow mein noodles in and coat thoroughly (this is easiest with a fork). Gather spoonfuls (or forkfuls) of the coated chow mein noodles and place them on waxed paper, allowing to cool. If desired, add jelly beans or candy eggs to the center of the nests.