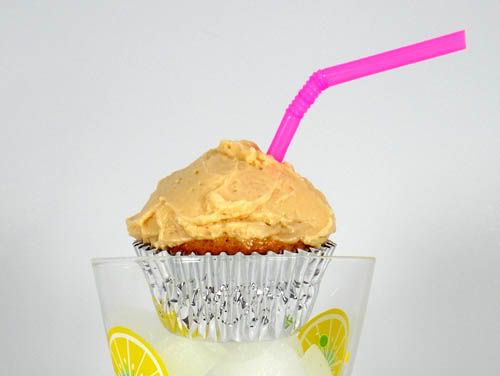 Sorry… no TWD for me this week. Bread pudding and I have never really had a great friendship. Don't get me wrong. I love bread… and I love chocolate, but a 'bread pudding' has never sounded that great to me. You can guarantee that I'll be back next week, though… with a yummy Chocolate Cream Tart. Oh, heck yes.
Instead of a bread pudding, I'll give you a peek at these. I was visiting a friend down the street the other day and thought that cupcakes would be perfect for a little tête-à-tête out on her patio. As I mentioned in the 'Arnold Palmers' post, here they are!! Light, crisp & perfect for a Spring afternoon (with no bread or chocolate harmed in the making – isn't that great?!)…
Arnold Palmer Cupcakes
Source: Paula Deen
1 c milk
5 black tea bags
1 c unsalted butter
2 c sugar
4 large eggs
1/2 tsp grated lemon zest
1 tsp fresh lemon juice
2 1/2 c all-purpose flour
3/4 tbsp baking powder
3/4 tsp salt
Arnold Palmer Frosting, recipe follows
In a small saucepan over medium heat, heat milk until hot to the touch. Place tea bags in hot milk, and let steep for 15 to 20 minutes. Remove and discard tea bags. Let milk cool.
Preheat oven to 350 degrees. Line 2 (12-cup) muffin pans with paper liners.
In a large bowl, beat butter and sugar at medium speed with an electric mixer until creamy. Beat in eggs, 1 at a time, beating well after each addition. Add 1/2 cup milk and tea mixture, lemon zest and lemon juice. Mix well.
In a medium bowl, combine flour, baking powder and salt. Gradually add dry mix into the wet ingredients.
Spoon batter evenly into prepared muffin cups. Bake for 20 to 22 minutes, or until a wooden pick inserted in center comes out clean. Remove from pans, and cool completely on wire racks. Spread or pipe Arnold Palmer Frosting evenly over cupcakes.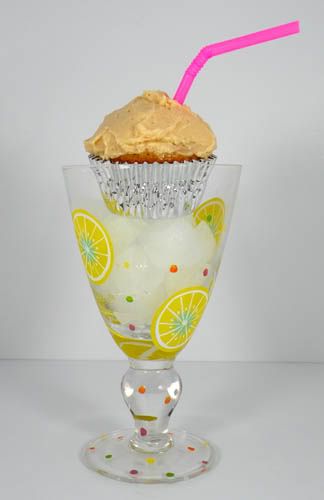 Arnold Palmer Frosting:
1 c unsalted butter, softened
2 c confectioners' sugar, divided
1/2 c reserved milk/tea mixture
1 tsp fresh lemon juice
In a large bowl, beat butter at medium speed with an electric mixer until creamy. Gradually beat in confectioners' sugar alternately with tea/milk mixture slowly. Beat in lemon juice until creamy.