Imagine my surprise when I walked into Starbucks the other day and spotted a box of Amaretti cookies on the shelf. Hallelujah!! This meant no trips to Dallas or hours of searching random aisles. Unfortunately, when I opened the box, there were only 6 cookies inside and the weight on the box was less than half of what Dorie specified for the torte. Boo. So… on Friday, I headed down to World Market and picked up a bag of Amaretto d'Italia cookies by Vicenzi. Not exactly what I wanted, but they were good and they worked for what was needed! I also didn't have to look too hard to find them. 😉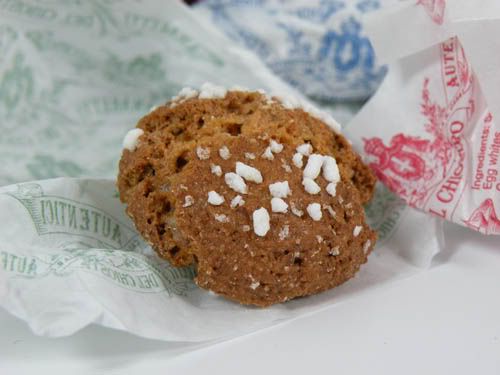 And once the torte was done… WOW-EEE!! Talk about sweet! I was in a chocoholic shock after one piece! The bittersweet chocolate paired beautifully with the Amaretti cookies… and it literally took 15 minutes from the prep to the oven! This is the perfect dessert for unexpected company, too. Quick, easy and fancy looking (if you can find the right cookies)!!
By the way, do not skip the Almond Whipped Cream… OMG, it's good!
Chosen by Holly of Phe/MOM/enon, I present Dorie's Chocolate Amaretti Torte…
15 Minute Magic: Chocolate Amaretti Torte (pgs. 276-277)
Source: Baking – From My Home to Yours by Dorie Greenspan