This cake was super-yummy and the vanilla ice cream was to die for… and I'm not even a huge vanilla fan!! I used 2 different heart pans to turn out the Chocolate Valentino, but my favorite was one of my new mini heart springform pans. They're adorable! The mini cake's shape is hard to distinguish, but it was still tasty! 🙂
The February 2009 challenge is hosted by Wendy of WMPE's blog and Dharm of Dad ~ Baker & Chef. The Daring Bakers have chosen a Chocolate Valentino cake by Chef Wan and a choice of Vanilla Ice Cream recipes from either Dharm and Wendy as the challenge.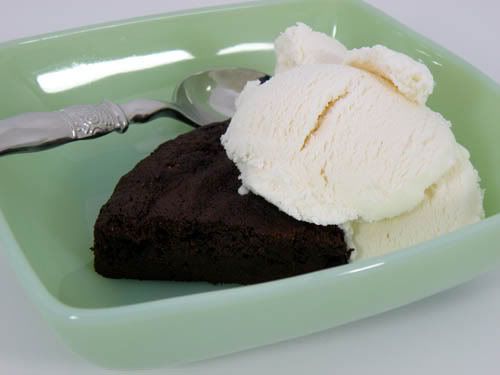 Chocolate Valentino
Source: Sweet Treats by Chef Wan
Preparation Time: 20 minutes
16 oz semisweet chocolate, roughly chopped
1 stick plus 2 tbsp unsalted butter
5 large eggs, separated
Put chocolate and butter in a heatproof bowl and set over a pan of simmering water (the bottom of the bowl should not touch the water) to melt, stirring often. While your chocolate/butter mixture is cooling, butter your pan and line with a parchment circle then butter the parchment.
Separate the egg yolks from the egg whites and put into two medium/large bowls. Whip the egg whites in a medium/large grease free bowl until stiff peaks are formed (do not over-whip or the cake will be dry). With the same beater, beat the egg yolks together. Add the egg yolks to the cooled chocolate. Fold in 1/3 of the egg whites into the chocolate mixture and follow with remaining 2/3rds. Fold until no white remains without deflating the batter.
Pour batter into prepared pan, the batter should fill the pan 3/4 of the way full, and bake at 375F. Bake for 25 minutes until an instant read thermometer reads 140F. Note – If you do not have an instant read thermometer, the top of the cake will look similar to a brownie and a cake tester will appear wet. Cool cake on a rack for 10 minutes then unmold.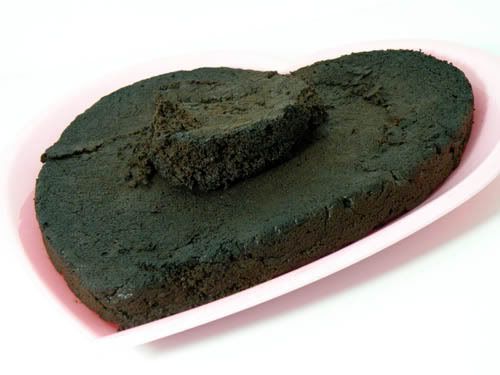 Wendy's Ice Cream Recipe – Vanilla Philadelphia Style
Source: Wendy of WMPE's blog
Preparation Time: 5 minutes
2 c half & half (1 cup of heavy cream and 1 cup of whole, full fat milk)
1 c heavy cream
2/3 c sugar
Dash of salt
1 tbsp vanilla extract
Mix all ingredients together (we do this in a plastic pitcher and mix with an emulsifier hand blender-whisking works too). Refrigerate for 30 minutes or longer. Mix in your ice cream maker as directed.
And in the spirit of love, I leave you with a little love poem (printed on the inside of my favorite chocolate bars!)…
Nocturne
Up to her chamber window
A slight wire trellis goes,
And up this Romeo's ladder
Clambers a bold white rose.
I lounge in the ilex shadows,
I see the lady lean,
Unclasping her silken girdle,
The curtain's folds between.
She smiles on her white-rose lover,
She reaches out her hand
And helps him in at the window—
I see it where I stand!
To her scarlet lip she holds him,
And kisses him many a time—
Ah, me! it was he that won her
Because he dared to climb!
-Thomas Bailey Aldrich