Happy Birthday to me!! 😀 And to celebrate at tonight's dinner, I made two different types of Horned Frog cupcakes for everyone!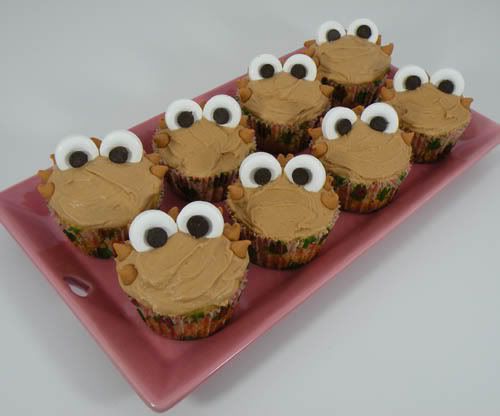 Vanilla 'Hornedfroggy' Cakes
Source: Adapted from Joy of Baking.com
1/2 c butter
2/3 c sugar
3 eggs
1 tsp vanilla extract
1-1/2 c all-purpose flour
1-1/2 tsp baking powder
1/4 tsp salt
1/4 c milk
Preheat oven to 350 degrees F and line 12 muffin cups with paper liners. Cream the butter and sugar until light and fluffy. Add the eggs, one at a time, beating well after each addition. Beat in the vanilla extract.
In a separate bowl whisk together the flour, baking powder, and salt.
With the mixer on low speed, alternately add the flour mixture and milk, in three additions, beginning and ending with the flour. Scrape down the sides of the bowl. Evenly fill the muffin cups with the batter and bake for about 18-20 minutes or until nicely browned and a toothpick inserted into a cupcake comes out clean. Remove from oven and place on a wire rack to cool. Once the cupcakes have completely cooled, frost with icing.
Quick Butterscotch Frosting
Source: Cooks.com
1 c brown sugar
5 tbsp butter
1/4 c milk
1/4 tsp salt
1-1/2 c powdered sugar
Combine sugar, butter, milk and salt in saucepan. Bring to a boil, then continue to boil slowly for 3 minutes. Cool for about 5 minutes. Add powdered sugar and beat until thick enough to spread.