Let the good times roll… it's Mardi Gras!!
A few weeks ago, I attended a baby shower for one of my best friends… fellow Horned Frog and EK sorority sister, J (the one with 13 bridesmaids!!). For dessert, her aunt served a King Cake and I fell head-over-heels in love. I don't know why I had never tried it before; quite possibly because I knew that I'd want to eat a piece for breakfast, lunch and dinner!
King Cake
Source: Adapted from Southern Living, February 2006 (Brioche & assembly) and NOLA Cuisine (Glaze)
Brioche
2 tbsp butter
1/2 of a 16 oz. container sour cream
2 tbsp + 2 tsp sugar
1/2 tsp salt
1 envelope Active Dry Yeast
1-1/2 tsp sugar
1/2 c warm water
1 egg
3-1/4 c all purpose flour, divided
1/4 c sugar
3/4 tsp ground cinnamon
2 tbsp + 2 tsp butter, softened
1 plastic baby trinket (or Horned Frog) 😉
Cook first 4 ingredients in a saucepan over low heat, stirring often, until butter melts. Cool mixture to 100° to 110°. Dissolve yeast and 1-1/2 tablespoons sugar in 1/2 cup warm water in a large bowl; let stand 5 minutes. Add butter mixture, egg, and 2 cups flour; beat at medium speed with an electric mixer 2 minutes or until smooth. Gradually stir in enough remaining flour to make a soft dough.
Turn dough onto a lightly floured surface; knead until smooth and elastic, about 10 minutes. Place in a well-greased bowl, turning to grease top. Cover and let rise in a warm place (85°), free from drafts, 1 hour or until doubled in bulk. Stir together 1/4 cup sugar and cinnamon; set aside.
Punch dough down; divide in half. Turn 1 portion out onto a lightly floured surface; roll to a 28- x 10-inch rectangle. Spread half of softened butter on dough, then sprinkle half of cinnamon mixture on dough. Roll dough, jellyroll fashion, starting at long side. Repeat all steps with second piece of dough, then twist with first piece. Place dough twist, seam side down, on a lightly greased baking sheet. Bring ends together to form an oval ring, moistening and pinching edges together to seal. Cover and let rise in a warm place, free from drafts, 20 minutes or until doubled in bulk. Bake at 375° for 15 minutes or until golden. Decorate with bands of Creamy Glaze, and sprinkle with Colored Sugars.
Note: Once the cake has cooled, randomly insert a plastic baby doll (or horned frog), if desired, before frosting.
Creamy Glaze
1/2 c powdered sugar
1 tbsp Bourbon
Water (approximately 1/2 tbsp)
Combine the sugar and bourbon, then whisk in enough water to make a glaze that can be drizzled.
Colored Sugars
1-1/2 c sugar (divided)
1 to 2 drops each: green, yellow, red & blue food coloring.
Combine 1/2 c sugar and a drop of green food coloring in a jar. Place lid on jar and shake vigorously to evenly mix the color with the sugar. Repeat with each color, combining red and blue to make purple.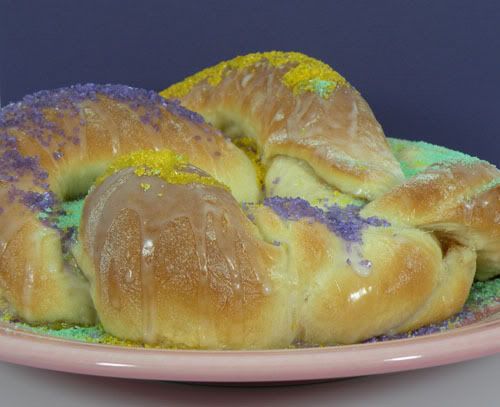 p.s. You'll notice that Super Frog (or Addy, to you old-timers), TCU's Horned Frog mascot, decided to join the party. Seeing as I how I didn't have any plastic babies on hand, I figured it was only right that a horned frog found its way into the cake. 🙂