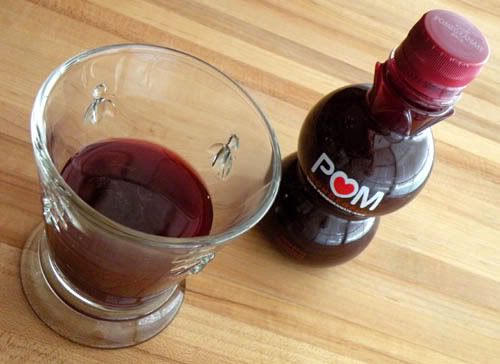 I had a lovely little email in my inbox last week, offering me samples of POM Wonderful's 100% Pomegranate Juice. I graciously accepted the generous offer and found a case (a whole case!) of cute little 8 oz. bottles sitting on my porch just a few days later. Luckily, I had two or three bottles left over from my tasting 😉 so I decided to try out one of the recipes POM had forwarded to me. Below are some of the tastiest cupcakes I've ever made…
POM Chocolate Cupcakes with Chocolate Frosting
Adapted from: POM Wonderful
1 c POM Wonderful 100% Pomegranate Juice
3 c all-purpose flour
2 c granulated sugar
1 c unsweetened cocoa powder
2 tsp baking soda
1 tsp salt
1 c water, heated to boiling
1 c vegetable oil
2 tbsp vinegar (not wine vinegar)
1 tbsp vanilla
Pomegranate Chocolate Frosting:
1 c POM Wonderful 100% Pomegranate Juice
6 tbsp butter
1 6-oz. package chocolate chips
1 tsp vanilla
2 c powdered sugar
1-2 tbsp whole milk
Cupcakes:
Preheat oven to 350F with rack in the center. Place a paper baking cup in each of 24 regular sized muffin cups. Whisk together the dry ingredients to combine well. In a large measuring cup, combine pomegranate juice and boiling water. Add oil, vinegar and vanilla to the pomegranate juice mixture. Add to the flour mixture all at once and whisk to combine (batter will be lumpy). Divide the batter evenly among the muffin cups (about half full). Bake 25 minutes or until toothpick inserted in the middle comes out clean and free of crumbs. Let cool. Frost with pomegranate chocolate frosting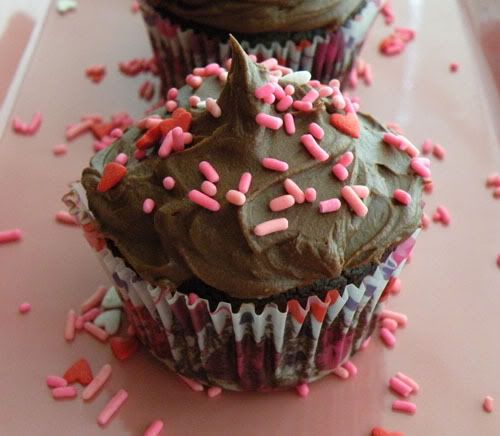 Pomegranate Chocolate Frosting:
In a saucepan, bring pomegranate juice and butter to a boil. Remove from heat; blend in chocolate chips. Stir in vanilla and powdered sugar. Beat until frosting is of spreading consistency. If frosting is too stiff, add 1 to 2 tablespoons of milk to thin.
Many thanks to Diana (the POM Blogger) and the lovely people at POM Wonderful!