I had the best weekend ever, visiting (and baking!) with my good friends… AggiesGirl of Sing for Your Supper and her husband, J!! 🙂 The weather was beautiful, the food was yummy and the company was fabulous! A's wanted to make Macarons forever, so after searching hard for an amazing recipe (with the correct measurements!), we made these…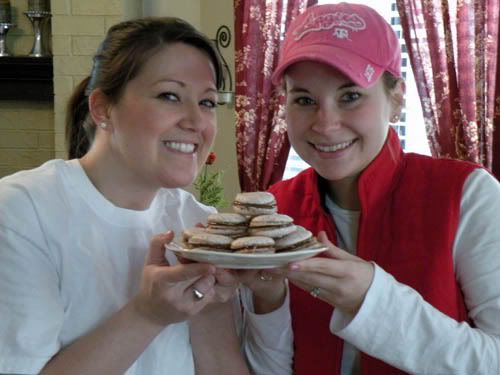 Southern Pecan Macarons
Adapted from: Serious Eats
1-1/4 c icing sugar
1 c ground almonds (we used pecans)
2 egg whites
1/4 c granulated sugar
Pinch of salt
Several drops of Red food-coloring
On a piece of parchment, use a pencil to draw 1-inch (2.5 cm) circles about 2 inches apart. Flip each sheet over and place each sheet on a baking sheet. Note: You only have to draw circles on the parchment paper if you want absolutely even-sized macarons. If you're skilled with piping and don't mind eyeballing the amount of batter per cookie, skip this step.
Sift almond flour and icing sugar together in a bowl and set aside. In a large clean, dry bowl whip egg whites with salt on medium speed until foamy. Increase the speed to high and gradually add granulated sugar. Continue to whip to stiff peaks—the whites should be firm and shiny.
With a flexible spatula, gently fold in icing sugar mixture into egg whites until completely incorporated. The mixture should be shiny and 'flow like magma.' When small peaks dissolve to a flat surface, stop mixing.
Fit a piping bag with a 3/8-inch (1 cm) round tip (or use a Ziploc bag with the end snipped off). Pipe the batter onto the baking sheets, in the previously drawn circles. Tap the underside of the baking sheet to remove air bubbles. Let dry at room temperature for 1 or 2 hours to allow skins to form.
Bake, in a 325F oven for 10 to 11 minutes. Use a wooden spoon to keep the oven door slightly ajar, and rotate the baking sheet after 5 minutes for even baking (we did not rotate the sheet).
Remove macarons from oven and transfer parchment to a cooling rack. When cool, slide a metal offset spatula or pairing knife underneath the macaron to remove from parchment.
Pair macarons of similar size, and pipe about 1/2 tsp of the filling (we used Nutella) onto one of the macarons. Sandwich macarons, and refrigerate to allow flavors to blend together. Bring back to room temperature before serving (or eat immediately after they're made!).