From the time I was young, I can remember so many of my family dinners revolving around a casserole. While you're reminiscing with loved ones or describing a busy day, that comfort food is filling your belly and making you feel all warm inside. One of my favorite casseroles is a creamy and cheesy dish of hash browns. Not only did my grandmother make it, but my mom did, too. It's a perfect side to dinner, but makes for a wonderful brunch dish, as well.
Try it with these Almond-Crusted Chicken Tenders!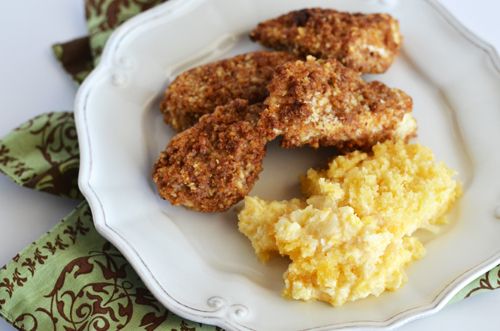 Creamy Hash Brown Casserole
Ingredients
1 (1 lb) pkg frozen Southern-style hash brown potatoes, thawed
2 c shredded cheddar cheese
2 c fat-free sour cream
1 (10-3/4 oz) can 98% fat-free Cream of Chicken soup
1/2 c unsalted butter, divided then melted
3 tbsp chopped onion
2 c panko bread crumbs
Instructions
Preheat oven to 350 degrees F. In a large bowl, combine the hash browns, cheese, sour cream, soup, 1/4 cup of melted butter and onion. Spread into a 13" x 9" baking dish sprayed with non-stick spray. Combine the panko crumbs and remaining melted butter; sprinkle on top. Bake, uncovered, for 50-60 minutes or until bubbly and heated through.
Adapted from: Taste of Home
http://mybakingheart.com/2008/01/24/creamy-hash-brown-casserole/